IN PURSUIT OF RECORDS
Story | Alpine trail running is the key to Nicolas Hojac's best mountain performances. The Mammut professional alpinist explains what the training benefits are and what is important when it comes to safe equipment.
April 11, 2023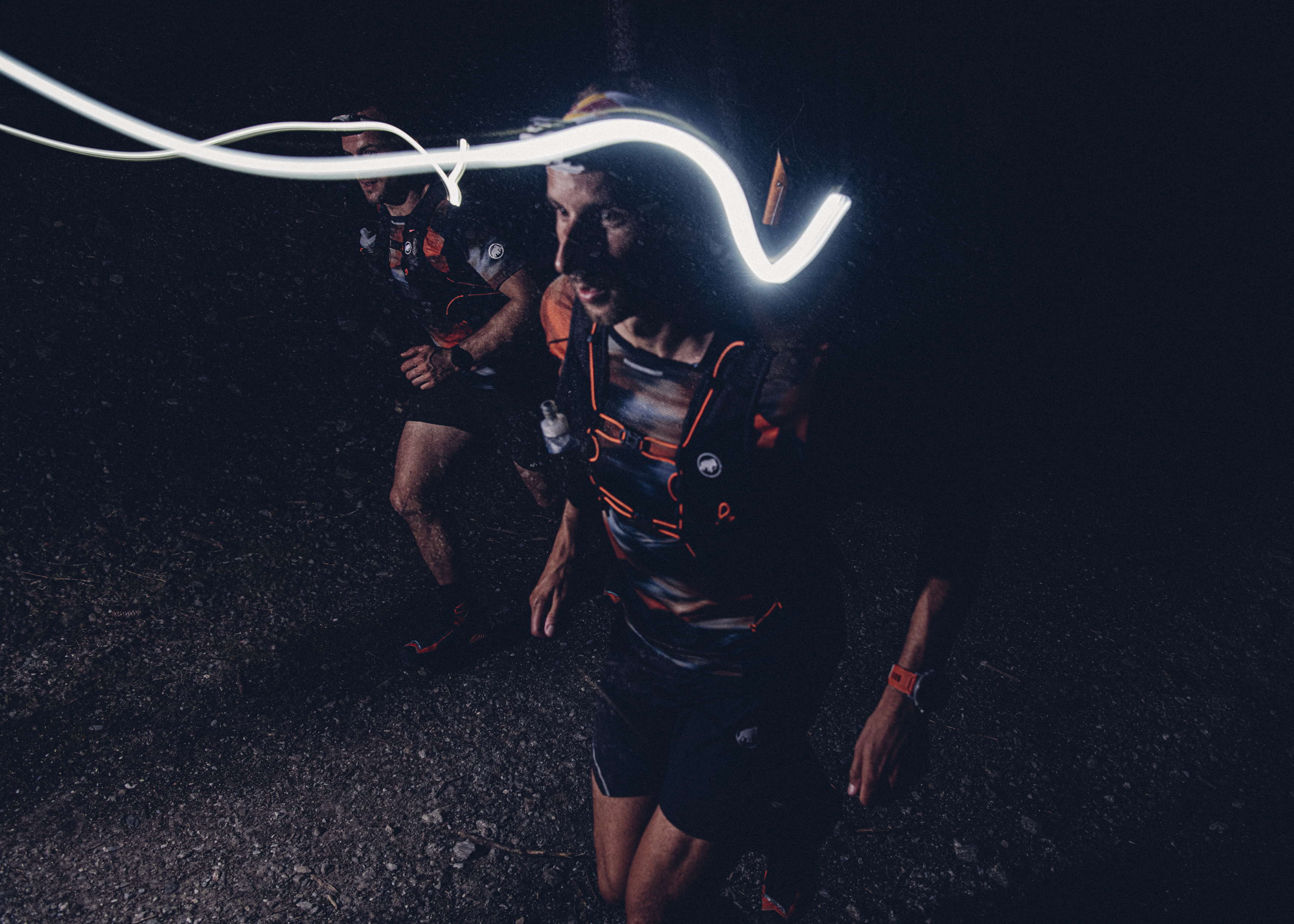 he exceptional Swiss mountain athlete Nicolas Hojac climbed the "Swiss Skyline Route" of the Eiger, Mönch, and Jungfrau in record time last year. Trail running was the most important element of his base training to achieve this top performance. This is hardly surprising, as studies suggest that the sport not only increases endurance but can also help to reduce energy consumption during the ascent. "As a professional alpinist, I can't train continuously in high mountain terrain," Hojac explains. Just the weather conditions, high risk, and considerable amount of time required do not make this a feasible option. "My technical skills allow me to transfer the fitness I gain by trail running very easily from the trails to the mountain terrain." ​ 
This fast training offers mountain athletes many benefits: In contrast to running on the road or in the woods, the demands on the body during trail running are much more complex. In addition to endurance, it requires more strength and significantly better coordination skills. The former is due to the significantly greater differences in altitude and steeper uphill and downhill sections. The second is due to the nature of the sport: constantly varying surfaces such as mud and stone sections require maximum attention, which is more demanding on the body. 
The "ultimate run": multifaceted fascination 
Apart from the training effect, what fascinates the record-breaker about trail running is "that you can run easily and efficiently, and thus cover much longer distances than hiking. As a climber, I like it when runs take you from the hiking trails and to 'scrambling terrain'. This provides a very nice change of pace and makes a trail run a little more challenging and varied." ​ 
Hojac is fully aware what challenges trail running training in alpine terrain poses for equipment, as he says, "Trail running in alpine terrain requires a lot of experience. Since you want to be as minimalistic as possible, you sometimes have to do without some equipment." This makes it all the more important not to skimp on the wrong things and to know the risks involved, he says. "If you don't have enough clothing with you, a sudden change in the weather can have serious consequences."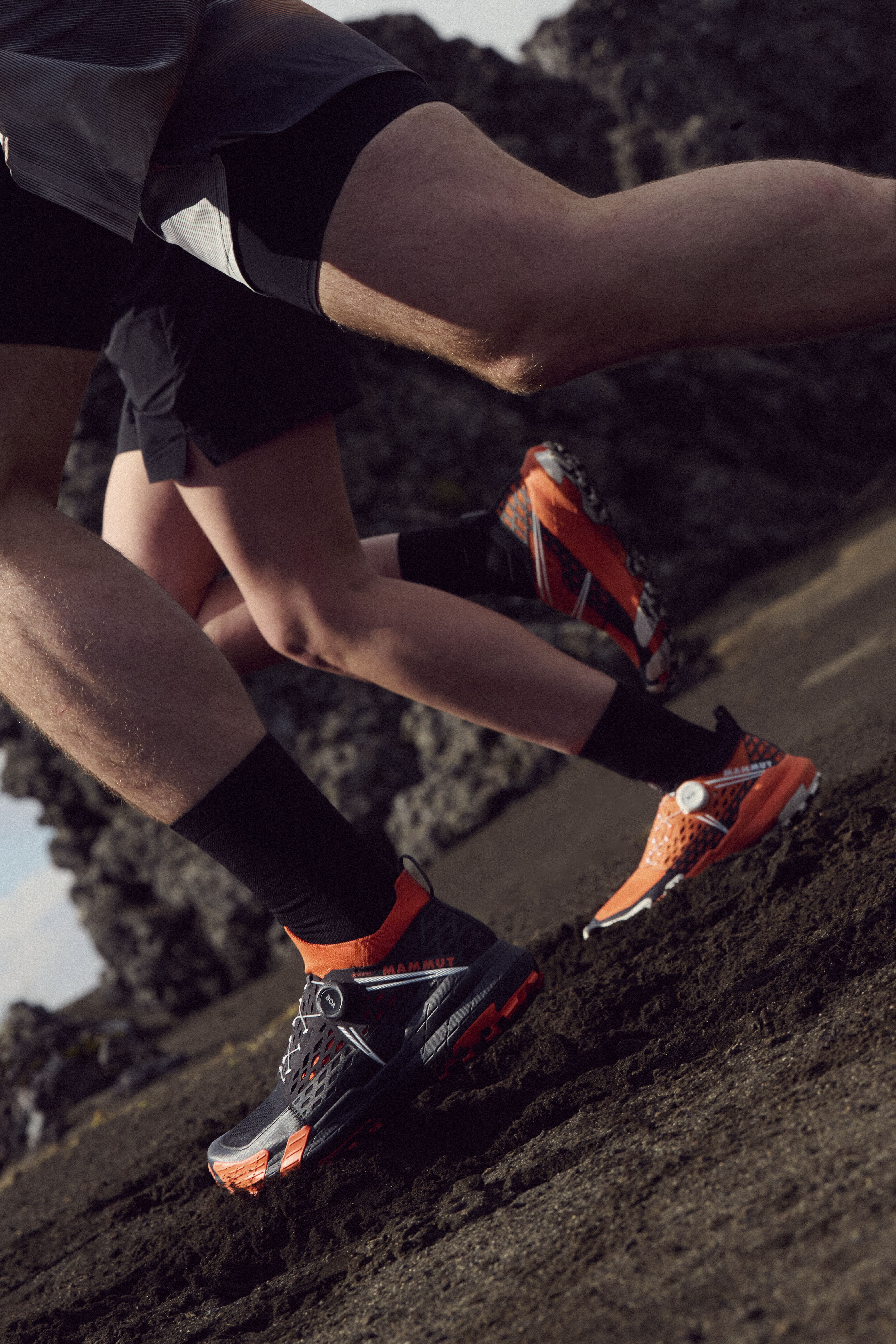 Technical terrain: a question of profile 
In order to move quickly and safely on challenging terrain, footwear plays a vital role for the Mammut athlete: "Apart from a good fit, the most important thing about trail running shoes is their sole. It forms the point of contact between me and the terrain, and consequently provides almost the greatest safety aspect. Slippery soles can lead to really serious accidents. But you should also know the limits of your trail running shoes, such as if the ground is icy or you are running in snow." 
For any runner who enjoys challenging trails and alpine terrain, outdoor company Mammut is launching its new trail running collection this summer. The collection is lightweight, breathable, and hard-wearing to match the sport's high demands. Collection highlights include the TR BOA® Mid GTX shoe with Vibram Megagrip outsole featuring Litebase technology, the ultralight Aenergy TR 5 vest with pole carrier and flask holders, and the Aenergy TR 2-in-1 shorts made from recycled materials. ​ 
The entire Mammut trail running collection is 100% decarbonized, meaning emissions caused during production are offset and removed from the atmosphere. 
Mammut
Official Mammut® Online Shop | Everything you need for your next Mountain Adventure is available online. Check out Clothing, Shoes, Technical Hardware & Avalanche Safety Equipment. Are you ready?
www.mammut.com
---